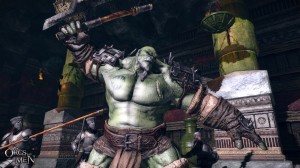 Ce n'est que 48 heures après les dernières photos d'écran que Cyanide et Spiders nous ont concocté une bande-annonce d'été histoire de faire monter un peu la pression de leur dernier jeu : Of Orcs and Men.
Cette vidéo nous dévoile un peu le scénario, avec l'expansion du royaume humain et les exactions sur les peaux vertes, et en profite pour nous montrer un peu de baston bien sympathique, combinant la force brutale de l'orc et les les coups tordus du gobelin. 
Of Orcs and Men est prévu pour cet automne (septembre) sur PC et console.
3 réponses à to "Of Orcs and Men, bande-annonce d'été"