Scroll down for english version
Interview de Maciej Sosnowski de CDProjekt.
- La série The Witcher était habituellement orientée sur une histoire non linéaire, avec de grands changements du monde en fonction des actions du joueur. The Witcher 3 est annoncé comme étant un jeu avec un monde totalement ouvert à l'exploration. Il n'y aura plus de chapitres, mais le joueur pourra aller où bon lui semble.
Comment allez vous combiner l'exploration libre avec les histoires dynamiques que CDProjekt construit habituellement ? Le monde restera-t-il figé ou certaines parties du monde évolueront-elles au fur et à mesure que certains évènements se produiront ?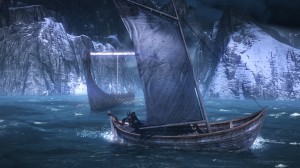 Dans le passé, nous pouvions voir deux approches dans les RPGs. D'un coté nous avions des jeux proposant un monde ouvert, mais ceux-ci n'avaient que des histoires simplifiées et il n'y avait pas de conséquence réelle suite aux actes du joueur. Nous avions également des histoires épiques, mais l'exploration était mise de coté. Nous avons l'ambition de mélanger les deux approches – avoir une excellente histoire, des décisions qui vont changer le monde tout en conservant cet aspect d'environnement libre à explorer. Pour cela nous distinguons trois niveaux de narration dans le jeu. La narration principale concerne Geralt à la recherche de son amour et son conflit avec la Chasse Sauvage. A coté de cela, Geralt peut être impliqué dans des problèmes locaux, propres à chacune des régions qu'il va traverser. Ces quêtes changent grandement la situation des Royaumes du Nord et chaque choix apportera son lot de conséquences. Le dernier niveau de ligne narrative concerne toutes les autres quêtes annexes et les activités propres à l'exploration du monde, telle que la chasse aux monstres. Bien évidemment, toutes les quêtes auront un impact sur le monde.
A tout moment, vous pourrez abandonner l'une des quêtes et y retourner plus tard, après avoir fait autre chose, et ce monde ouvert en sera plein.
- The Witcher 2 était plus orienté action que le premier. Nous avons pu lire que les combats dans The Witcher 3 permettront la parade, et seront plus viscéraux que dans les opus précédents. Est-ce que CDProjekt va se concentrer sur la partie action et s'éloigner encore un peu de la partie RPG du jeu (qui, à notre avis, était déjà un peu manquante dans The Witcher 2) ?
Le système de combat sera vraiment amélioré par rapport au second opus. Maintenant vous aurez plus de contrôle sur la lame de Geralt. Tous les coups prendront le même temps, et vous pourrez vous défendre à tout moment, de la manière que vous souhaitez, – par des pirouettes, des roulades, des parades.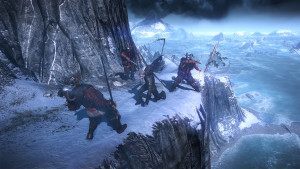 En même temps, nous souhaitons plus montrer les mécanismes de RPG sous-jacents. Notre but est de montrer de manière tangible comment vos statistiques ont un effet sur votre progression dans le jeu. En fait, dans The Witcher 3 vous aurez un mélange des deux approches. Les joueurs qui aiment l'expérimentation hardcore avec les statistiques pourront expérimenter à volonté, et en même temps, ceux qui souhaitent utiliser leur dextérité seront également satisfaits des options proposées. Plus généralement le système de combat sera facile à apprendre, mais difficile à maîtriser et le nombre des options tactiques sera augmenté de manière significative.
- Peux-tu nous parler des mécanismes du jeu ? Y aura-t-il toujours un arbre de compétences ? Qu'en est-il de l'inventaire, des armes, de l'alchimie, … la magie ?
A peu près tous les aspects du jeu ont été améliorés. Nous avons lu ce que pensaient les fans de l'inventaire et nous avons décidé de le changer. La grille d'inventaire est de retour et donnera aux joueurs une approche plus dans le style des RPGs classiques. Nous souhaitons rendre l'inventaire ergonomique et intuitif.
L'artisanat est aussi amélioré. Nombre d'ingrédients sont rassemblés lors de la chasse aux monstres, mais il existe d'autres substituts plus accessibles, qui génèreront des produits de qualité inférieure. De même tous les artisans ne pourront pas fabriquer certains objets – il ne faut pas croire qu'un petit forgeron de village vous forgera une arme de légende.
Nous avons également changé le système de l'alchimie. Vous aurez toujours à boire des potions avant les combats, mais les changements dans le système rendront le tout plus intuitif. Si vous rassemblez assez d'indices par rapport à l'ennemi à combattre, vous affinerez ce qu'il vous faudra préparer avant l'affrontement.
- Souvent, les concepteurs de jeux de rôles essayent de fournir une expérience spécifique de jeu, outre le simple fait d'avoir un jeu simplement amusant. Certains essayent d'impliquer le joueur émotionnellement, d'autres essayent d'amener le joueur à réfléchir, d'autres essayent simplement de créer un jeu épique…
Vos jeux précédents étaient plutôt riches et généraient une certaine réflexion sur notre société, tout en proposant des combats épiques et en même temps étaient techniquement impressionnants (particulièrement The Witcher 2). Quelle voie allez vous emprunter pour The Witcher 3 ? Sur quel point vous focalisez vous ? Quelle sorte de jeu souhaitez-vous créer avec The Witcher 3 ?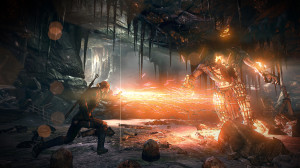 Raconter une histoire épique, est la pièce maîtresse de notre jeu. Tous les éléments de jeu ont cet objectif en commun : présenter la légende de Geralt. Nous continuerons à traiter des problèmes existants aussi dans la société moderne dans un décors de fantasy et cela ne changera pas. Je ne vois pas trop les différences dans les approches dont tu parles. L'immersion se fait par le biais de l'intégration d'éléments que le joueur connaît du monde réel, et on ne peut raconter une histoire intéressante qu'à partir du moment où le joueur connaît ces problèmes dans le monde réel. A ce moment, l'histoire devient captivante si le joueur se trouve impliqué personnellement dans l'histoire.
Puisque tu mentionnes les combats de boss de The Witcher 2, il n'y en aura plus. Il y aura toujours des points « pivots », de grands ennemis, mais le gameplay ne changera pas. Il n'y aura pas d'évènements scriptés dans ces batailles ou de QTEs. Tous ces combats se règleront par des mécaniques de jeu normales et rien d'inhabituel se produira. Cela reflètera notre retour vers les règles faisant le coeur des mécaniques du RPG, les compétences et statistiques seront les plus importantes choses pendant les combats, et non un simple QTE.
- Vous avez annoncé utiliser le RedEngine 3. Développer votre propre moteur de jeu ex nihilo pour TW2, puis un nouveau moteur pour TW3 est une lourde décision à prendre qui engendre des coûts importants. Pourquoi choisir cette manière de faire plutôt que d'opter pour un moteur de jeu existant ? Pourquoi ne pas faire deux jeux dans un laps de temps plus réduit, en utilisant le même moteur ?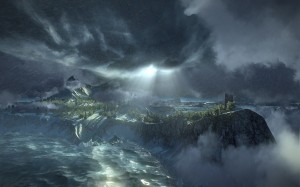 Le RedEngine 3 est une nouvelle itération de l'ancien moteur de jeu. Il a été créé de manière organique et n'a pas été créé depuis rien. C'est en fait une évolution du premier moteur de jeu qui nous permet maintenant de créer des environnements plus grands. C'est le même outil orienté RPG, mais amélioré.
- Vous utilisez le travail d'Andrzej Sapkowski comme fondation de votre monde de jeu. Utilisez-vous juste ses livres en tant que licence ou a-t-il une influence sur l'histoire ? Il a récemment dit qu'il n'appréciait pas vos illustrations sur ses livres dans certains pays. En quoi est-il impliqué dans la création de vos jeux ? (J'ai lu personnellement presque tous ses livres sur le Sorceleur, et je les trouve seulement convenables. Honnêtement je trouve que votre vision de Geralt a dépassé celle de son créateur
)
Mr Sapkowski n'aime pas les jeux vidéo et n'interfère pas dans notre création. Il traite les jeux comme des entités totalement séparées de son travail, voila tout.
 - On a entendu parler de départs de personnes clés de CDProjekt (Tomek Gop, Artur Ganszyniec), c'est assez inhabituel, les sociétés gradent souvent leurs équipes dirigeantes ou chef concepteurs. Ces changements ont ils eu une influence sur les jeux développés par CDProjekt ? Quelles sont les personnes qui travaillent sur TW3 ? Y a-t-il des personnes connues qui ont déjà travaillé sur The Witcher 1 & 2 ?
Il y a toujours des vétérans de Witcher 1 & 2 dans le studio, n'ayez crainte. Tout le monde n'était pas au devant de la scène et nombre de personnes qui travaillent en arrière plan ne sont pas connues, mais l'esprit du studio reste le même et l'équipe s'agrandit toujours. Les personnes qui travaillent sur TW3 sont des vétérans des jeux précédents et des fans du genre. L'équipe aime le travail qui a été fait et continue l'héritage. C'est un endroit de travail normal où les gens rejoignent l'entreprise ou la quittent, mais nous maintenons notre vision.
- Le sexe était présent dans les deux premiers jeux, mais bien moins dans le second. Comment sera le troisième ? Plus d'amour et moins de sexe ?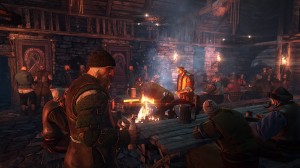 Vous avez remarqué cela ? Dans nos jeux, le sexe ne sert pas comme excitation devant des personnes dénudées, mais elles servent l'histoire et servent à présenter le monde. Dans The Witcher 2 et le 3, il n'y a plus de cartes de sexe, puisqu'il s'agit de relations entre adultes qui sont possibles et intégrées dans le scénario. C'était le cas pour The Witcher 1, mais le système de cartes à collectionner en faisait une quête en soi, et non plus une partie du monde. C'est pourquoi nous l'avons changé dans The Witcher 2 et nous continuerons ainsi pour la Chasse Sauvage.
- Est-ce que Geralt va enfin retrouver Yennefer
?
Vous souhaitez vraiment savoir avant de jouer le jeu ? Je ne pense pas…
- Allez-vous toujours proposer une distribution digitale sans DRM via gog.com, ainsi qu'une distribtion en magasin traditionnel, avec version standard, collector, … ?
Bien sûr. gog.com aura aussi sa version sans DRM.
- Quelque chose à ajouter à propos de The Witcher 3 ou CDProjekt ? Aucune information à livrer pour vos fans
?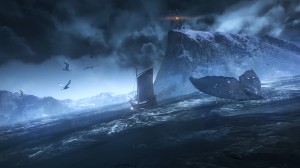 Je pense qu'il y a encore plein de chose que nous allons annoncer. Ainsi que nombre d'entre vous le savent, nous n'avons pas créé un monde ouvert avec un seul thème. Les îles gelées que vous voyez sur les photos d'écran (en cours d'élaboration, le jeu en version finale sera bien plus beau) n'appartiennent qu'à un seul royaume. Lorsque vous parcourrez les contrées, l'atmosphère changera, car nous chercherons l'inspiration dans de nombreuses cultures. Bientôt nous révèlerons d'autres endroits de notre monde – ne les manquez pas sur thewitcher.com
- Grand merci pour votre temps !
———————————————–
English version
Interview: Maciej Sosnowski / CDProjekt.
- The Witcher series was usual focused on (non-linear) story, with huges changes done to the world depending on the player's actions. TW3 is announced as having a world completely opened to exploration. No more chapters, but more like a whole gameworld to explore.
How will you combine the world exploration with the dynamic storylines CDProjekt usually build ? Will the game be more static, or will it evolve depending on the player's actions ? Will you keep the world the same, or will some parts of the world change as events occur ?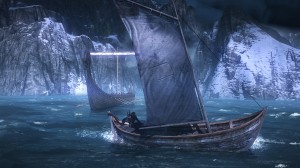 In the past we could see to approaches to RPGs. On the one hand we had open world games, but they had simplified stories and often didn't present real consequences of players' actions. We had also epic tales, but exploration felt a little bit on the rails. We have an ambition to mix those two approaches – to have a great story, real world-changing decisions in a free roaming environment. To do this we distinguish three levels of storytelling in the game. The main narrative concentrates on Geralt seeking for his loved ones and his conflict with the Wild Hunt. Aside from that Geralt may get involved in local problems in each land he visits. These quest change the situation in the Northern Kingdoms dramatically and each choice will bring consequences. The lowest level of the plotline  are all other side quests and open world activities, like Monster Hunting. Of course all quests will have impact on the game world.
At any time you can abandon one of the quests and return to it later after doing some other activities and the open world will be filled with them.
- The Witcher 2 was a little bit more action oriented than the first one. We read TW3 combat will allow to parry blows, and will be more visceral than the previous one. Will CDProjekt continue to depart even more from the RPG side (which, we found, was already a little bit lacking in TW2) and focus on the action side of the game ? Or will you return to a more RPG focused game, like the first game ?
The definitely improve the combat system from the second part of The Witcher. Now you will have more control over Geralt's blade. All blows and strikes will take the same amount of time and you will be to defend yourself in any moment, how you want – by pivots, rolls and parrying.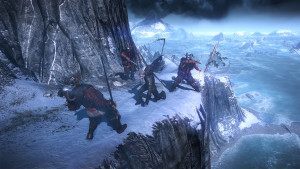 At the same time we want to expose more the RPG mechanics underneath. Our goal is to show how your stats  have a tangible effect on your progress in the game. So in The Witcher 3 you'll have a mix of both approaches. Players who like hardcore stat testing will be able to experiment at will, while those who want to use their action skills we'll also be satisfied with the options they have. Generally the combat system will be easy to learn, but hard to master and the number of tactical options will be significantly increased.
- Can you elaborate on game mechanics ? Is there still a skill tree ? What about inventory, weapons, alchemy, …magic ?
Almost every system in the game has been improved. We read fan opinions about the inventory and we decided to change it. The grid is back to give players a more classic RPG feel. We want the inventory to be user friendly and intuitive.
Crafting is also improved. Many ingredients are gathered through Monster Hunting, but they also have less troublesome substitutes, which provide inferior quality. Also not every craftsman will be able to create a specific item – don't think that some peasant blacksmith can forge a legendary weapon.
We altered the alchemy system too. You will still need to drink potions before combat, but our alterations will make this more inntuitive – if you gather enough clues about your enemy, you will be able to narrow down the things you need to prepare.
- Usually RPG game designers want to make the player have a specific kind of experience, over the simple fun to play the game. Some want to make the player to be emotionnally involved, some want to make the player think, other just want to build an epic game…
Your previous games were quite rich, and were generating some reflections on our current society, but features also epic fights and were also technically impressive (especially The Witcher 2). Which way will you take for The Witcher 3 ? Is there a focus determined yet ? What sort of game do you seek to achieve in The Witcher 3 ?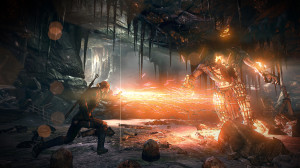 Telling an epic tale is still the centerpiece of our game.  All gameplay elements serve this purpose, to present Geralt's  legend. We won't turn away to difficult, modern world problems in the fantasy setting and this won't change. I don't actually see the difference between the approachces you mentioned. Player immersion is achieved by presenting issues the player knows from the real world and you can tell a captivating plot only if the player is in the game and is emotionally engaged.
Since you mentioned boss battles from The Witcher 2, there won't be any in the new part. I mean there will be pivot points, large enemies, but the gameplay won't change. There will be no scripted events in those battles or QTEs. All such battles will be resolved with normal game mechanics and nothing unusual will occur. This reflects our return to core RPG mechanics, your stats and skills will be the most important thing during a fight and not a simple QTE.
- you announced you will use the RedEngine 3. Developping your own game engine from scratch for TW2, then a new engine for TW3 is a heavy decision to take and may cost a lot. Why did you choose this course of action instead of licensing an already built engine ? Why aren't you making two games in a shorter time, but using the same engine ?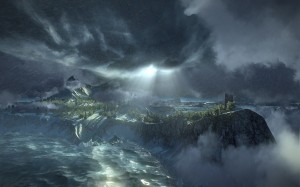 The REDengine 3 is a new iteration of the old engine. It grew organically in a way isn't  made from scratch. It is a natural evolution of the first engine, which now allows to create larger environments. It is the same RPG-oriented tool , but better. 
- You use Andrzej Sapkowski work as a fondation for your game world. Are you just using his books as a licence, or has he some influence on the storyline ? He recently said he didn't appreciate your games illustrations appearing on his books in some countries. How is he involved in the creation of your games ? (I personnally read almost all his books about the Witcher, which I found just above average, and, honestly, I found your vision of Geralt surpasses his creator
)
Mr Sapkowski doesn't like video games as a medium and he doesn't interfere with our creation. He treats the games as a separate entity based on his works and that's all.
 - We heard a little about key people departure from CDProjekt (Tomek Gop, Artur Ganszyniec), it' quite unusual, as companies usually keep their leading staff / lead designers. Did those changes have any influence on the game developped by CDProjekt ? Who are the people working on TW3 ? Are there well known people who worked already on The Witcher 1 & 2 ?
There are still a lot of Witcher 1&2 veterans in the studio, so don't worry. Not everyone was a face of the game so these people work in the background and are not recognizable, but the spirit of the studio remains the same and the team still expands. The people working on The witcher 3 are veterans of the previous games or gamers and fans of the genre.  The team loves their work  and continues the heritage. This is a normal workplace and people come and go, but we continue with our vision.
- Sex was present on the two first games, but quite less on the second game. How will be the third game. More love / less sex ?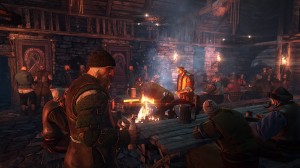 You really counted that? In our game sex serves not as an add-on to get excited over a naked person. Sex server it's storytelling purpose and presenting the world. In the witcher 2 and 3 there won't be any sex cards like in the first one, because interactions between adults should be a part of the plot. It was the case in The Witcher 1, but the collectables made some thing that this is something made as an achievement and not part of the world. That's why we changed it in the Witcher 2 and will continue in the Wild Hunt.
Will Geralt (at last) meet Yennefer
?
You really want such a major spoiler before you play the game? I don't think so.
- Will you still propose digital distribution DRM free through gog.com, as shop distribution, along with high standard collector, .. ?
Of course. GOG.com will have a DRM free version for sure.
- Anything you wish to add about The Witcher 3 or CDProjekt ? Any informations for your fans
?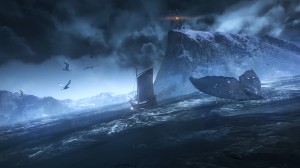 I think that there are still a lot of facts we will uncover. What many of you may already know we didn't built only a one themed open world. So the chilly islands you'll visit from the screenshots (which by the way are very early ones, the game will look much better in the end) are only from one realm. When you traverse the lands the atmosphere will change as we drew inspirations from many cultures. Soon we will reveal more about other parts of our world – so don't miss it on thewitcher.com
Thank you very much for your time !