Scroll down for english version
Bonjour Brian,
C'est très sympa de ta part et de la part de Colin McComb et Kevin Saunders de bien vouloir répondre à quelques questions au sujet de Torment: Tides of Numenera pour le Dagon's Lair !
Merci !
Allons-y :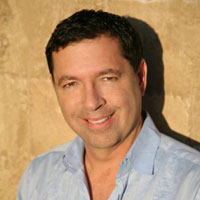 Tu as annoncé que vous allies travailler avec Monte Cook et Numenera. Numenera possède un univers totalement différent, et se situe dans un future lointain. Comment allez-vous adapter la licence Torment à cet univers ? Allez-vous uniquement utiliser les règles de Numenera ou allez-vous adapter la "philosophie" de Torment sur l'univers de Numenera ?
(Colin)
De la manière dont nous voyons les choses, Torment est un style d'histoire thématique assez spécifique, mais pas obligatoirement lié à un univers particulier. C'est une histoire personnelle intense, non pas épique –quoique toute histoire semble épique pour celui qui la vit- et nous raconterons une histoire de lutte, de tragédie et de rédemption potentielle. Le choix du monde de Numenera était naturel, peut-être même inévitable pour le style d'histoire que nous souhaitons raconter, focalisé comme il l'est sur le mystère, la notion d'abandon et les secrets qui ne seront peut être jamais révélés.
Nous adapterons les règles de Numenera pour le jeu.  Monte a créé un fantastique monde pour son jeu de rôle papier et nous voulons faire de leur travail la base de notre jeu. Nous avons cependant certains éléments scénaristiques que Monte n'a (logiquement) pas intégré dans son système, et spécifique à Torment, que nous devons quantifier et examiner.
Quelles sont les personnes en charge du scénario ? Est-ce que les heureux élus ont été sélectionnés ? Est-ce que Chris Avellone sera impliqué d'une manière ou d'une autre dans votre projet ? Peut tu nous parler un peu de l'histoire et du scénario dans les grandes lignes ?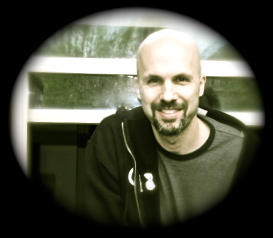 (Brian)
Colin McComb est le directeur de la création. Son expérience sur la création de mondes et sur l'écriture de fiction est la pierre angulaire de l'histoire et des éléments thématiques. Il a travaillé à la fois sur l'univers de Planescape et  en tant que concepteur de Planescape : Torment. Le chef de projet est Kevin Saunders, qui était directeur de conception pour Mask of the Betrayer, jeu qui était, pour nombre de fans hardcore de RPG, le jeu le plus proche de Planescape : Torment à ce jour. Nous avons également nombre de grands artistes conceptuels tels que Nils Hamm, Andree Wallin, Chang Yuan, and Dana Knutson qui était l'artiste principal de l'univers Planescape. Mark Morgan va composer  la bande audio du jeu – il a d'ailleurs déjà créé un morceau pour Torment. Nombre de personnes talentueuses vont s'investir dans Torment.
Chris Avellone ne travaillera pas sur le projet, mais il soutient beaucoup ce que nous faisons. Il m'a également recommandé à la fois Colin et Kevin, et de cette manière a aidé à ce que Torment prenne forme.
Nous partagerons des détails sur l'histoire de Torment très bientôt, mais c'est aujourd'hui encore un peu tôt.
L'histoire du jeu sera-t-elle totalement différente de celle de Planescape Torment ? Existera-t-il plusieurs plans d'existence comme dans Planescape, ou le jeu ne sera-t-il qu'un « voyage philosophique d'une personne  cherchant sa voie dans une histoire d'accomplissement personnel et de réflexion ». (pris dans l'interview de Nowgamer). Pouvez-vous développer ?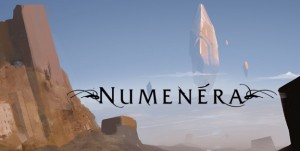 (Colin)
L'histoire sera totalement différente, mais nous explorerons des éléments thématiques différents. Nous n'allons pas créer des « plans d'existences » proprement dits, mais il y aura des voyages extradimensionnels et des endroits éloignés de ce que nous considérons la réalité. Le voyage philosophique aura son pendant dans le monde physique concret, et comme Planescape, il y aura des endroits qui seront totalement différents de ce que l'on voit dans la plupart des jeux de rôles de fantasy.
Techniquement, quels sont vos projets par rapport au moteur de jeu ? Allez-vous utiliser une vue de haut en 3D isométrique comme le premier jeu ou la vue adoptée pour Wasteland 2 ?
(Kevin)
Le moteur Unity a bien fonctionné pour nous sur Wasteland 2 et nous allons l'utiliser pour Torment, ce qui mettra à profit à la fois notre expérience et notre travail accompli sur ce moteur. Nous explorons encore les possibilités d'approche pour les environnements et la vue adoptée dans Torment. Aaron Meyers, artiste sur Planescape : Torment fort d'une longue expérience en tant que directeur artistique nous aide à développer la vue.
Quel est l'accent que vous souhaitez mettre sur le jeu ? Un monde plus ouvert ? Plus orienté dialogues ? Une histoire à raconter comme Planescape ? Linéaire ou non ? Pouvez-vous développer ?
Torment sera un jeu fortement scénarisé, comme Planescape Torment l'était. Il y aura des fins différentes, des zones et des quêtes optionnelles, et l'accent sera mis sur les décisions du joueur, mais ce ne sera pas un monde ouvert.
Qu'est-ce qui vous a fait choisir de construire un nouveau jeu sous le nom Torment, plutôt que d'opter pour une nouvelle licence ? C'est tout de même un challenge de créer un nouveau jeu à partir d'une licence existante, les fans du premier jeu pouvant s'énerver au sujet des inévitables changements que vous allez apporter à votre nouveau jeu.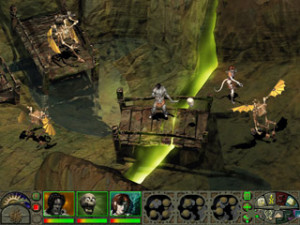 (Kevin)
Planescape Torment a eu un grand impact sur ceux qui y ont joué, et malgré ses nombreux fans, il n'y a eu que peu d'efforts de faits pour créer une expérience de jeu de rôle similaire. Nous comprenons quels sont les éléments qui ont fait de PS :T un excellent jeu et nous souhaitons faire un nouveau jeu qui explorera ces thèmes d'une manière similaire. Une partie de ce qui faisait PS :T ce qu'il était est d'avoir été le seul à le proposer. De la même manière, Torment : Tides of Numenera doit forger sa propre voie. Je crois que les fans comprendront cela et veulent aussi quelque chose de neuf. Utiliser la licence Torment a mis la barre très haut, mais nous sommes prêts pour relever le challenge.
Tu as annoncé être au tout début de la pré-production. Vas-tu utiliser Kickstarter à nouveau ? Vas-tu attendre que Wasteland 2 soit terminé avant ? A propos de Wasteland 2, comment avance le développement ? A-t-il encore des risques d'être à nouveau repoussé ?
(Brian)
Dans un monde parfait nous souhaiterions commencer la pré-production de Torment bien avant que Wasteland 2 soit terminé. Une longue pré-production est la clef pour les RPGs et il serait souhaitable que tous les petits détails soient fixés avant que l'équipe de production commence à implémenter le tout. Demander à l'équipe de Wasteland 2 de terminer, de faire une pause puis de revenir sur un nouveau projet de plus de 1000 pages prêt à être implémenté serait idéal. Nous devons cependant d'abord présenter plus de choses sur Wasteland 2 avant d'envisager cela. Le statut développement de Wasteland 2 est excellent et nous allons montrer très bientôt nos progrès.
Avez-vous quelque chose à ajouter concernant Torment ?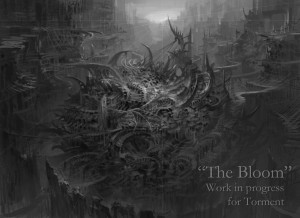 (Brian)
Certains se posaient des questions sur le titre « Tides » (Marées). Il s'agit en partie d'un système de choix et de conséquences que Colin, Kevin et en particulier Adam Heine ont créé pour Torment. Adam était créateur de scripts sur PS :T et nous avons eu la chance de l'accueillir dans l'équipe. Kevin a déclaré à propos des Marées : « Elles peuvent vaguement être comparées aux alignements de D&D, ou aux principes de vertus d'Ultima IV. Contrairement aux alignements, elles ne sont pas directement en opposition les unes aux autres, et contrairement aux vertus, nous n'aurez pas à les accomplir toutes. Vous ne le pouvez d'ailleurs pas… En fait, ce sera à vous de voir ce qui est le plus important pour vous.
Les Marées sont nuancées et complexes, le « bon » choix pour une situation reste une décision qui vous est personnelle (ou selon la manière dont vous voulez jouer), plutôt qu'une décision que nous, concepteurs allons juger. Cela dit, les PNJs dans le jeu vont certainement vous juger selon leurs croyances et leurs objectifs, mais notre objectif reste à ce que le jeu soit impartial. Nous souhaitons implémenter une réactivité satisfaisante du monde et vous permettre de constater les conséquences de vos propres choix, afin de pouvoir jouer comme vous le souhaitez et de voir l'histoire se dérouler en conséquence. Nous parlerons plus avant des Marées au fur et à mesure de l'avancement du projet et il y a des aspects de ce système pour lesquels nous demanderons l'avis de nos commanditaires (backers).
Les Marées sont un bon exemple montrant le chemin pris par l'un des éléments du jeu s'éloignant de PS :T, tout en se montrant fidèle à son héritage, ainsi que la manière dont nous intégrons la philosophie de Torment, comme vous l'avez mentionné, dans le monde de Numenera.
Pour terminer, auriez-vous  une illustration conceptuelle à nous fournir
?
Pas encore… mais bientôt
Merci Brian & Colin ! C'était très gentil à vous de prendre le temps de répondre à ces quelque questions.
————————————————————————————————————————————
Hi Brian,
It's really great from you to answer a few questions about Torment for the Dagon's Lair !
Thank you !
Here we go :
You already said you will be working with Monte Cook and Numenera. Numenera is a completely different setting, as it is set in a distant future. How will you adapt the Torment IP to this setting ? Will you only use Numenera's rules or are you going to adapt the Torment « philosophy » to the Numenera overall setting ?
(Colin)
The way we see it, Torment is a specific thematic story style, not necessarily tied to a particular setting. It is an intensely personal story, not an epic – but every story feels like an epic to the person living it, and we will bring a story of struggle, tragedy, and potential redemption. The Numenera setting is a natural, perhaps even inevitable choice for the kind of story we want to tell here, focusing as it does on mystery, abandonment, and secrets that may never be revealed.
We will be adapting Numenera's rules for the game–Monte has created a fantastic tabletop setting, and we plan to make use of his work as the basis for our game. However, we have story elements that we need to quantify and explore that Monte (rightly) didn't build into his system that are specific to Torment.
 
What about the people in charge of the scenario ? Are the « chosen ones » selected ? Will be Chris Avellone be related in any way in your project ? Could you talk a bit about the overall scenario/story of the game ?
(Brian)
Colin McComb is the creative lead, with his experience in world-building and fiction writing as the cornerstone of the story and thematic elements. He worked on both developing the Planescape setting and as a designer on Planescape: Torment. Torment's project director is Kevin Saunders, who was the lead designer and producer for Mask of the Betrayer, which some of the hardcore RPG fans feel was the game closest to PS:T yet. We have several great concept artists involved, including Nils Hamm, Andree Wallin, Chang Yuan, and Dana Knutson, who was the primary concept artist of the Planescape setting. Mark Morgan is creating the game's soundtrack – he's already created a piece for Torment and completely nailed it. A lot of great talent is involved.
Chris Avellone won't be working on the project, but is very supportive of what we're doing.  He also referred both Colin and Kevin to me, so in that way he helped Torment form.
We will be sharing more details on the story soon but it is a bit too early.  
 
Will the game be a completely different story than Planescape Torment ? Will there exist multiple plane of existence like in Planescape, or will the game be only themed around the « philosophical journey of a single character searching for meaning in a deeply personal story of self-reflection and self-realization » (taken from your interview at nowgamer). Can you elaborate a bit about that ?
(Colin)
The story will be entirely different, though it will explore similar thematic elements. We're not going to be doing *planes* per se, though we will see extra-dimensional travel and locations that are far removed from what we consider reality. The philosophical journey will be mirrored in a physical journey, and like Planescape, will feature locations that are nothing like we see in most fantasy role-playing games.
Technically, what are your plans about the game engine ? Will you use an isometric 3D overall view like the first game or what looks like to be in Wasteland 2 ?
(Kevin)
Unity has worked out very well for us on Wasteland 2 and we will use it for Torment, leveraging both our experience and some of our work. We are still exploring our approach for the environments and view for Torment. Aaron Meyers, who was an artist on Planescape: Torment and many years of experience as an art lead is helping us to develop the look.
What are your plans for the game focus ? More open world ? More dialogues oriented ? Story driven like Planescape ? Linear or multiple way to complete the game ? Open-ended game world ? Can you elaborate a bit ?
(Kevin)
Torment will be a story-driven game like Planescape: Torment was. There will be multiple possible conclusions, optional areas and quests, and an emphasis on reactivity to player decisions, but it won't be an open world.
What made you choose to build a new game on the Torment's IP, instead of a completely new IP ? There's a challenge making a new game on an old well-known IP as fans of the first game could become mad regarding the unavoidable changes you will have to make to your new game.
(Kevin)
Planescape: Torment had a profound impact on many who played it and, despite its many fans, there have been few efforts to create a similar type of role-playing experience. We understand the elements that made PS:T great and want to make a game that explores similar themes in similar ways. Part of what make PS:T was its uniqueness, and thus Torment: Tides of Numenera must also forge its own path. I have faith that the fans understand this and that they want something new. Using the Torment IP provides a high bar for us to target and we're up for the challenge.
You said you are at the very early preproduction. Will you use kickstarter again ? Are you waiting for Wasteland 2 to be completed before ? About Wasteland 2, how goes the development ? Any risks of being more postponed
?
(Brian)
In a perfect world we would want to start pre-production on Torment long before Wasteland 2 is complete. Long pre-production is key for RPGs and you like to have every little detail hammered out before the production team starts implementing. To have the Wasteland 2 team finish up, take a break and then return to a 1000 page+ design ready to be implemented would be ideal. However, we need to show more on Wasteland 2 first before we propose such things. The development of Wasteland 2 is going excellent and we will be showing our progress shortly.
Any words you like to add about Torment ?
(Brian)
Some have been curious about the title. The "Tides" are part of a choices and consequences system that Colin, Kevin, and particularly Adam Heine have been designing for Torment. Adam was a scripter on PS:T and we were fortunate to bring him aboard the team, too. Kevin has said this about the Tides: "They could be loosely compared to D&D's alignments or Ultima IV's principles and virtues. But unlike alignments, they are not in direct opposition to each other and unlike the virtues, you won't necessarily want to achieve them all. Nor can you, really… you'll have to decide what's most important to you.
The Tides are more nuanced and complex, with the "best" choice for any situation being a personal decision for you (or how you want to play) rather than a decision that we as designers judge. Now, NPCs in the game will certainly judge you based upon their own beliefs and agendas, but we will strive for the game itself to be impartial. We want to provide satisfying reactivity and allow you to explore your own answers, for you to play as you wish and have the game's story unfold accordingly. We'll talk more about the Tides down the road and there are aspects of the system for which we'll be seeking backer input."
The Tides are a good example of a way in which we are deviating from PS:T while being true to its legacy and also how we are injecting the Torment philosophy, as you mentioned, into the Numenera setting.
 
At last but not least, any new concept art you could share with us
?
Not yet…. But soon…
Thanks Brian, Colin & Kevin ! It was very kind from you to take time to answer our questions.