Interview
Michael
producteur du RPG
Chaos Chronicle
Jeu réalisé par l'équipe Coreplay qui a réalisé Jagged Alliance
Traduction de l'interview par Ouil of the be holder
(scroll down for english version) 
Pourriez-vous nous parler un peu de vous et de l'équipe? Coreplay a déjà réalisé Jagged Alliance, un remake des bons vieux jeux de stratégie tactique en tour-par-tour. Réaliser un JDR comme Chaos Chronicle signifie beaucoup plus de travail, de ressources avec son monde complet à construire, les PNJ, le scénario, les dialogues.
Bonjour, je suis Michael et je suis le producteur du jeu, du côté des éditeurs ce qui signifie donc que je suis le bon et le mauvais gars. Disons que je suis responsable de l'équipe. Coreplay est l'équipe derrière Chaos Chronicles ainsi qu'un grand studio avec qui travailler (jusqu'ici). Ils ont ressuscité la franchise Jagged Alliance. Ils sont basés dans la belle ville de Munich et codent jusqu'à ce que leurs mains saignent pour faire le jeu. C'est bien sûr pas mal de travail de créer un tel JDR. La bonne chose c'est que le développement a commencé avant Jagged Alliance avant d'être gelé. Ce qui ne signifie pas que ce travail a été fait pour rien. L'engin est quasiment déjà réalisé il peut héberger des JDR où vous êtes centré sur vos personnages bien mieux que sur un tactical où vous déroulez l'écran en permanence. Avec notre expérience due au développement de Jagged Alliance nous nous sommes habitués à l'éditeur et de nombreuses quantités de carte hautement détaillées peuvent être crées. Nous savons déjà –ou avons une idée- de à quoi le monde, le cadre et le scénario ressembleront et ce qu'ils évoqueront. Lors de la GAMECON, Peter le codeur en chef a présenté le jeu à la presse et apporté des jeux de sa collection privée dont Dungeon Master, Bard's Tale, Ultima 5 et d'autres. Pourquoi cette anecdote ? Pour vous expliquer comment les choix de design sont faits pour Chaos Chronicle. Nous ne voulons pas réinventer le jeu mais rendre un hommage au bon vieux temps. Ce qui signifie : Nous pouvons prendre des décisions plus rapidement que d'autres studios. Nous observons ces classiques et nous faisons comme eux avec des graphiques modernes. Moins de blabla, plus de boulot.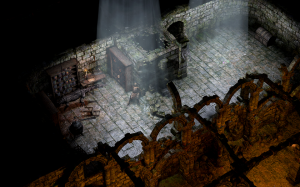 Quelle est l'idée directrice derrière la création d'un JDR oldschool. Avez-vous des inspirations ? Lesquelles ?
Depuis les années 80 les JDR ont changé avec les années. La définition du JDR a changé. Les jeux comme Skyrim sont excellents dans leur genre mais ils leur manquent toujours ce quelque chose qui fait du JDR une des plus grandes expériences. Et c'est ce que nous cherchons. A rester oldschool. Fidèles aux origines. Ne pas inventer quelque chose qui est déjà là mais oublié. Regardez Pool of Radiance et Dungeon Master. Les vieux Ultima. Nous voulons les ressusciter. Retrouver cette sensation du JDR papier. Grimrock a prouvé qu'il y a là un marché. Nous en sommes heureux même si nous avons commencé le développement avant ce jeu.
Pouvez-vous décrire le monde? Le scénario semble très traditionnel pouvez-vous en parler un peu ? Sera-t-il linéaire et évoluant au gré de l'histoire ou plutôt ouvert avec un monde à découvrir ? Les choix influeront-ils sur l'histoire ? Des quêtes additionnelles ?
Nous voulons rester traditionnels. De la high fantasy classique. C'est notre but. Le monde des Chaos Chronicles a été conquis par des forces mauvaises il y a des siècles et vous serez le premier humanoïde à y retourner après toutes ces années et votre mission consiste à découvrir ce qui est arrivé. Et peut-être de trouver cette force mauvaise et la détruire. Le monde est semi-ouvert avec la possibilité de voyager sur le continent mais avec des zones dangereuses. Vous pourrez les visiter mais vous serez décapités très vite. Chaque donjon a sa petite histoire qui s'intègre dans un puzzle global au terme duquel vous découvrirez la vérité. Comment y parvenir ? A votre grès. Vous pouvez faire des quêtes annexes. Cependant pour le moment nous n'envisageons pas de proposer une évolution de l'histoire avec vos choix. Ce qui ne signifie cependant pas que vous n'aurez pas de choix.
Les combats seront en tour par tour. Pouvez-vous nous parler de la feuille de personnage ? Caractéristiques ? Compétences ? Niveaux ? Des classes de perso? Et les armes? La magie ?
Chaos Chronicles n'utilise pas la licence D&D mais y ressemble beaucoup. Ne jamais changer ce qui a marché. Donc oui votre perso évoluera, avec des caractéristiques, des compétences et des niveaux. Les classes et races classiques seront là. Des armes magiques aussi. Mais Chaos Chronicle ne proposera pas de génération d'objets. Si vous trouvez une épée +2 vous aurez l'impression de l'avoir mérité et vous en serez heureux. Les joueurs de D&D comprendront.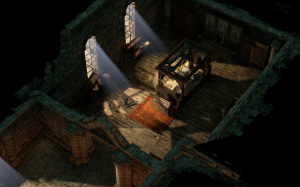 En ce qui concerne le gameplay vous avez évoqué des donjons traditionnels riches en ambiance. À part les combats, proposerez-vous des pièges, des puzzles ?
Oui, il y aura des pièges. Vous pourrez les repérer en étant prudent. En repérant peut-être une pierre étrange sur un mur avec votre voleur. Avec un guerrier limité vous échouerez et cela provoquera peut-être la mort d'un membre de votre équipe. Et il y aura aussi des puzzles, certains sont déjà en Alpha. Parfois vous devrez cherchez l'entrée d'un donjon. Parfois vous devrez trouver une amulette pour une barrière magique. Nous ne voulons pas nous limiter aux combats mais proposer un mélange équilibré de combats, d'exploration, d'aventure de résolutions de puzzles et d'évolution de persos.
 Pouvez-vous nous parlez des interactions avec l'univers ? Les joueurs pourront-ils interagir avec des objets du monde ? Les objets interactifs seront-ils illuminés comme dans Fallout ou Dragon Age ? Ou alors comme dans les vieux Divine Divinity où chaque objet sera manipulable ? Les PNJ auront-ils des objectifs propres ?
En parlant de Chaos Chronicle nous le comparons pas à Fallout ou Dragon Age. Le jeu est différent. Beaucoup d'objets seront interactifs, principalement pour les besoins de l'histoire. De nombreux objets auront des informations intéressantes pour le joueur.  Rien d'essentiel mais elles apporteront des petites histoires que le joueur pourra –ou non- suivre.
Vous parlez de solo et de multijoueur. Comment jouer en multijoueur en partant du principe que le scenario est de type JDR ? Comment gérer les dialogues et les choix de jeux ? Vous n'avez pas peur qu'un tour par tout soit trop lent ou ennuyeux pour un multijoueur, genre 4 personnes qui attendent que le 5eme ait terminé ?
Il est encore trop tôt pour évoquer les solutions à ces problèmes évoqués. Vous savez, personne ne joue à un JDR papier seul. Et nous voulons cette ambiance, donc le multijoueur est essentiel. Les joueurs contrôleront des personnages spéciaux. C'est tout ce que je peux vous dire pour le moment.
Pour les déplacements, si j'ai bien compris il y a une carte du jeu, que les joueurs peuvent utiliser pour voyager dans le monde? Cela signifie-t-il que le jeu est composé de zones connectées par la carte du jeu ?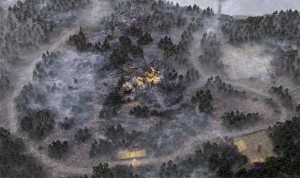 La carte du monde a disparue avec l'évolution du JDR. Nous voulons la ressusciter. Il y aura des villes où se soigner, recruter et créer des personnages, des donjons majeurs. Mais des zones ouvertes seront accessibles par exemple en suivant des traces de sang. Parfois en traversant une ville la zone changera car une bande d'orcs a créé un barrage. Si vous campez dehors vous pourriez être attaqué par des vampires. Si vous choisissez de combattre cela ouvrira une zone.
A mon sens votre publique sera composé de coregamers. Mais vous annoncez aussi que les novices pourront y jouer. Comment allez-vous gérer ceci ? Avec un changement de niveau des monstres ? Ou en simplifiant les mécaniques de jeux pour les novices?
Nous n'allons rien simplifier du tout. Les novices pourront au moins survivre après s'être familiarisés avec les mécaniques du jeu. Mais maitriser le jeu sera ardu. Les batailles et les puzzles mettront votre cerveau à contribution. Sinon vous n'aurez aucune chance. Le mode hardcore sera pour les joueurs qui découvrent le jeu. Nous réfléchissons à un mode horriblement hardcore (insanely hardcore NDT) où les indices de jeux seront absents et avec moins de sauvegardes possibles.
 ————————————————————–
ENGLISH VERSION
Interview
Michael
producer of the ROG
Chaos Chronicle
A game made by Coreplay, Jagged Alliance's authors

Could you talk a bit about you & the team. Coreplay already made Jagged Alliance, which was a remake of the Good old Strategy / tactical turn based game. Making a RPG such as Chaos Chronicles means a lot more work, resources, with all its' world to build, NPCs, scenario, dialogues, …
Hello. My name is Michael and I'm the producer for the game, sitting on the publishers side which of course means I'm the bad and mad guy. Well, better said I'm responsible for the team. Coreplay is the team behind Chaos Chronicles and a great studio to work with (so far). They indeed revived the Jagged Alliance franchise.  They are based in the beautiful Munich and code till their hands bleed to get this game done (to be honest: I force them to do so!).
To your question which you have hidden very well: It's of course a bunch of work creating such an RPG. The good thing is that development started even before Jagged Alliance but was put on hold in the meantime. Doesn't mean a lot of work was done for nothing. The good thing is that the engine is pretty much done already and can handle RPGs where you are focused on your character even better than a tactical game where you can scroll over the map all the time. With all the experience we got during the development of Jagged Alliance we got more and more used to our level editors and therefore a large amount of highly detailed maps can be created. We already know (or have an idea) of how the world, setting and scenarios will look like and feel like.
You should have seen us at the gamescom. Peter, the main-coder of the game presented the game to the press and he took some games of his private collection with him, including Dungeon Master, The Bards Tale, Ultima V and a lot more. Why I am telling this little story? Cause it explains how design decisions are made for Chaos Chronicles. We don't want to re-invent the genre but create a hommage to the good old times. This means: We can make decisions faster than other studios. All we do – if we talk about a feature – is to look at those classics and look how they solved problems or how they included things. And we do it the same way like they did – but with modern graphics. So to speak a little less talky talky but a little more worky worky.
What is the idea behind creating a traditional old school RPG ? Are there sources of inspirations ? Which ones ?
You know, if you look back at the 80s, the first generation of RPGs and then you look at our times, do you notice something? RPGs have changed over the years. What's called a RPG nowadays isn't what RPGs used to be. Don't get me wrong. RPGs like Skyrim are great in their discipline – but still they lack of something which made RPGs one of the greatest experiences ever. And that's what we are looking for. Keep it oldschool. Keep it true to the roots. Don't invent something which is already there but has been forgotten. Look at Pool of Radiance. Look at Dungeon Master. Look at the old Ultima games. Look at Bard's Tale and all these games. We want to revive them. Bring them back to life. We want to have this pen & paper feeling again. And we hope that other people think the same way. Grimrock has proven that there is a market for classic RPGs. Although we started with development much earlier we're happy to see that.
Could you describe your game's world? The scenario seems very traditional, can you talk a bit about it? Is it strongly story based and linear or more like a free world to explore? Is the scenario dynamic depending on your choices? Are there side quests besides the main one?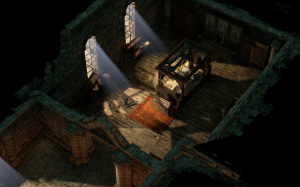 We really want to be traditional. Classic high-fantasy. That's what we're aiming for. The world of Chaos Chronicles has been overrun by evil forces centuries ago and you'll be the first humanlike-being who comes to the world after all this time and your mission is to find out what happened. How it could happen. And maybe find the evil force and destroy it. The world itself is half-free-to-explore. The worldmap gives you the ability to travel over the continent but there will be areas which you won't be able to enter. Oh well. You'll be able. But you'll get your head cut off very fast. Every major dungeon has it's own little story which is a small part of the major puzzle. And in the end you'll know what happened. How you get there? Up to you. You can do side-quests of course. Right now we however we do not plan to have story-changes based on your choice. Doesn't mean there aren't places where you have a choice…
Combats will be turn based, OK. Can you elaborate on the player character sheet? Stats, skills, … levels ? Are there character classes ? What about weapons, magic ?
Chaos Chronicles does not use the Dungeons & Dragons license but it feels a lot like it. Let's talk about operating systems. There's this one famous sentence: Never change a running system. We'd like to add something here: Never change a running and proven system. So yes, you can evolve your character, there are stats, skills and levels. And there are all the classic fantasy races and classes. Magic weapons? Yes. Although Chaos Chronicles won't be an item-spam-machine. If you find a sword with strength +2 it'll feel like you have just defeated the whole world and you'll be very glad to have it. D&D-Players will understand this.
About gameplay you talk about traditional dungeons with a lot of atmosphère. Besides combats, will you implement also some traps, logical puzzles ?
There will be traps. Yes. You'll be able to spot them if you are careful enough. You'll maybe spot a strange stone on the wall and then use your thief to find it. If you try that with a not so intelligent warrior you'll of course fail and maybe one of your party-member might die cause of a trap. For the puzzles: Yes again. There are already puzzles in the early alpha. Puzzles have a high priority in the game and they are different in many cases. Sometimes you have to search for an entry to a dungeon. Sometimes you have to find amulets for magical barrier. Sometimes you have to think about logical-things. We don't want the player to be stuck in combat all the time. We want to achieve a balanced mixture out of combat, exploring, adventure, puzzle-solving and character-evolving.
Can you elaborate about world interaction? Will the player be able to interact with some world's objects ? Is it more like Fallout or Dragon Age where there are only some items which can be highlited to interact with ? Is it more like the old Divine Divinity where every single object can be manipulated ? Do NPCs have an agenda?
When we talk about Chaos Chronicles then we don't compare it to Fallout or Dragon Age. The game is different. There are lot of objects you can interact with. This is mainly story-related. You can click on a lot of items but you cannot move each. In a puzzle for example you have to move statues. That would be movement with objects. But there is more interaction everywhere. There are so many objects which have interesting information for the player. Even a pumpkin can be a spot of interest. If you click on the pumpkin I have in my mind then a short text occurs which tells you that the pumpkin must be 200 years old but still looks fine. This seems to be a bit strange if you think about it but it still is part of the story. Nothing you'd need, but still interesting to know. This way we hide a lot of little stories in the game which the player – if he wants to – can follow.
You talk about solo or cooperative multiplayer (5 players). How are you considering playing the game multiplayer considering you are playing a RPG scenario ? How will you manage dialogues, ingame decisions ? Don't you fear turn based combat is too slow / boring for being played multiplayer (4 people waiting the 5th one to play).
It is yet too early to talk about the solutions for the problems you have mentioned. You know, you never play a pen & paper game alone. And we have the approach to make Chaos Chronicles feel like a pen & paper game. So multiplayer is a must. Players will control special characters. That's all we can say for now.
About traveling, if I understand well, there's a game map, which player can use to travel the world. That's right ? Does that mean the game is composed by a number of game zones, connected by the game map ?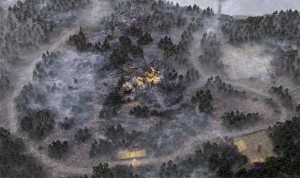 The world map is a feature which got lost during the evolvement of RPGs. We plan to bring it back to life. Try to think about an abstract map of a world. Where a castle with a town is represented as a small building on the map. And you chose to go there and then you enter the town-screen where you can heal your party-members in the temple, listen for rumors the tavern and hire (or create) new party-members in the guild hall. And then you have the option to enter one of 12 major dungeons. Then you skip the first layer (worldmap) and enter the second layer of the game which is a dungeon in this case. Also there are dozens of smaller maps, so called overland-maps. You can find them on the worldmap sometimes when you follow a blood-trail. And sometimes you walk through a wood and suddenly the game changes into the second layer because you ran into a horde of orcs who created a road-block. And when you camp in the wild you might get attacked by vampires and the game loads a map which fits to the place where you are on the map and then you'll have to defend yourself of the vampires. Or you might try to flee.
From my point of view seems your audience is hardcore RPG, but it's announced you also anybody to join the game novice/intermediate and expert. How do you manage to do this ? Level of monsters changes ? Or do you simplify game mechanics for novices ?
We are not going to simplify anything. Players new to the genre at least will be able to survive once they get used to the game mechanics. But to master the game, well, that's going to be hardcore. You have to use your brain in the battles and during the puzzles. Otherwise you'll have no chance. The hardcore-mode will be for those who are new to the genre. But we're also thinking about an insanely hardcore-mode where display hints are not available and such stuff. With less saving-options…