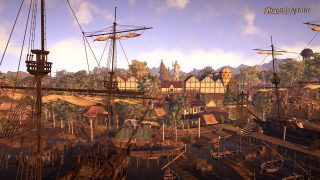 click here to read the review in English
En plein boom de Kickstarter et du crowdfunding, ayant fait la part belle au retour des vieilles légendes vidéoludiques, 2013 vit l'annonce de Shroud of the Avatar – Forsaken Virtues. Marquant le retour de Richard « Lord British » Garriott (après quelques errements dans les jeux sociaux), on annonçait rien de moins qu'un titre qui serait le successeur de sa série mythique, ambitionnant à la fois de créer une aventure solo jouable hors-ligne digne d'Ultima et un univers persistant et communautaire en ligne pouvant rivaliser avec Ultima Online.
Annoncé sur cinq épisodes et doté d'un des plus gros budgets dans l'histoire du Kickstarter vidéoludique (même si lointain second derrière Star Citizen), Shroud of the Avatar semblait tout destiné à devenir un grand jeu même si son early access s'éternisant depuis des années avait de quoi faire douter.
Alors que le jeu est enfin disponible officiellement à la vente depuis la fin du mois de Mars, il est donc temps de faire un premier bilan…