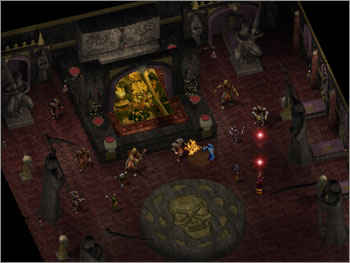 Belle vue de haut, beaux graphismes, animations, musique, et excellente interface de combat.
Un Must pour les joueurs AD&D. L'histoire de fonds est bonne. Un seul point négatif, les quêtes secondaires sont vraiment trop simplistes (tuer cet homme derrière l'arbre….); le joueur passe 70 % du jeu à découvrir les cartes et tuer tout ce qu'il y a dessus. La moitié des dialogues mênent au combat. Très peu d'interaction avec le monde. Avec un peu de finition quand aux quêtes secondaires, ce jeu aurait pu être LE jeu de rôle micro.
Graphiques & sons : 5/5
Interface de Combat : 4/5
Scénario : 3/5
Jouabilité (fun) : 3/5
-Haut-
AD&D : Baldur's Gate : Tales of the Sword Coast (Baldur data disk) / Interplay / 1999
Techniquement, il utilise le moteur de Baldur's Gate. Ce data disk améliore certaines peties choses dans Baldur (ex : la gestion de 'se cacher dans l'ombre'. Le data vous donne trois nouvelles missions, plus élaborées et bien meilleures que les sous-quêtes générales de Baldur's Gate. On utilise enfin un peu sa tête ! Les combats sont durs, très durs. N'oubliez pas que ce n'est qu'un data disk, et qu'il ne rajoute pas grand chose au jeu. La jouabilité (fun) de Baldur monte à 4/5 avec le data.
Jouabilité (fun) : 4/5
AD&D : Baldur's Gate / Interplay / 1999