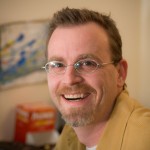 Interview avec le producteur exécutif Craig Zinkievich (Link to Dagon's english original interview)

Could you describe a space combat sequence in STO ? (fast/slow paced, move & shoot or more micromanagement of weapons, subsystems, cloaking by lowering energy signature, teleporting commando onto other unshielded ships…). Are ship to ship collisions harmful, do your beams harm other friendly ships, and at last, is there ship shield management (increase one side of shield to bear direct hit, …) ?
Sure!  Space combat in STO is both fast and slow.  Let me explain.  Your ship is moving at very high speeds but we didn't want to make this like a fighter pilot game.  These are very huge ships that carry a ton of crew.  It's very tactical because you have to move around to your opponent's weak side, take down their shields with your phasers and then fire your torpedo's to do maximum damage.  You will very much have to manage your shields, if one side goes down you'll need to divert power to that side.  Shield management plays a big part in your success during ship combat.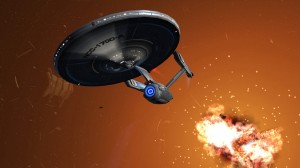 Your game have « mission episodes » where five players can join in an instance to play the episode. Could you give us a sample of an episode, to give us an idea of what the player has to accomplish to complete it  ? Is it mostly fights or are there many other things to do to complete an episode ?
One of the features that set Star Trek Online apart is its Episodic Content. We don't want players to be stuck in the same environment for three hours hunting tribbles until they level. None of the Star Trek TV episodes take place on one set – neither should STO's content.
Our Episodic Content is designed to take you to a number of widely differing environments during a single gameplay session.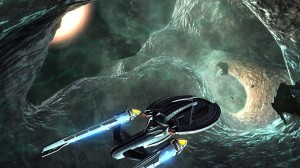 As an example the Admiral at Earth Spacedock contacts you and asks you to pick up a Vulcan ambassador who is headed to a conference on nearby P'Jem. After the pickup you head to P'Jem system, but as you enter into Orbit you are hailed by a group of Klingons claiming that the ambassador on board is wanted by the Klingon Empire.
- Is the Federation the only faction available when you begin the game ? How long after can you access the Klingon faction ?
Shortly after the tutorial, you'll be able to unlock a Klingon character slot. The Klingon faction is heavily PvP focused, so we wanted to make PvP a compelling activity for both sides of the war. Most PvP takes place in the Neutral Zone, which is the borderland area between Federation and Klingon space. We plan on having contested objectives within some of these areas, as well as multi-group PvP content. We really want to provide a broad PvP experience for players.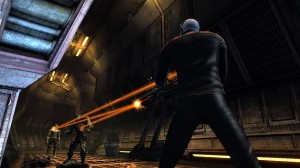 - As STO is an skill based MMO, and y ou only have 6 ranks, could a player with 20 hours gameplay play with a player with 200 gameplay hours without penalty ? Is the rank a mean just to broaden the choice of which skill to use, or does it represent raw power (like in level based MMos) ? Is an unused skill shrinking?
You can team up and play either way.  However it might be more helpful for the lower rank player to get help from a higher ranking player because they will do better in battles, where as if the lower ranking player is trying to assist a higher ranking player during a mission you might not survive as long.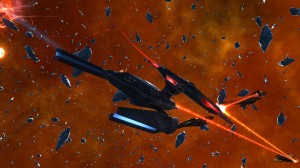 - How does personnal dexterity skills influence battle outcome compared to ingame skills ? This question goes for space combat, but also for ground combat, especially for close combat…
The more skill points you accrue the more damage you will be able to take.  So as you gain these skills and rank up the better you'll be in both space and ground combat.
r be able to meet other players in deep space, or will this be only possible in space stations, where you can decide to join a group and go to play an episode ? (more freeform with seemless Space to explore or more instanced, scenarised missions ?)
You will see other's flying around in space and you can choose to team up with them and chat with them no matter where you are.  It doesn't just have to be at a space station.  You can then discuss which missions you have to do and the higher ranking player can choose if they want to go help the other player do a mission or not or vice versa. But if you're lower ranked you might not do so well fighting, especially if you're more than a few ranks apart.  It will be instanced but you can definitely find your friends really quickly or move to a different instance.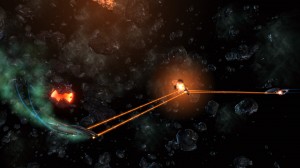 - Can two friends, which ship is on one side of the galaxy a nd the other on the other side of the galaxy, meet easily and join a group without too much travel ? How do you manage ingame communications ? Ingame IRC chat windows like other MMO games ?
That's a tough question to answer, just because the galaxy is a big place. If you're on opposite sides of the galaxy, you can meet up with your friend, but you won't be able to reach each other instantaneously. Expect some travel time, even at high Warp.
As far as in-game communication goes, we have in-game chat like other MMOs. You can send tells, chat with people nearby, and speak to your Fleet and group.
- How do you manage ingame death ?
During space combat when you lose your ship in battle it will likely result in losing some of your items. However players will not lose their ship, they will simply respawan at the last unlocked respawn point.
An example of how we handle death in ground combat is that when your character sustains enough damage, they fall to the ground unconscious in the hope that an away team member will resuscitate you. If they do, then you are back up and in the thick of it. If they don't, then you'll be sent back to the last checkpoint on the map along with your NPC away team.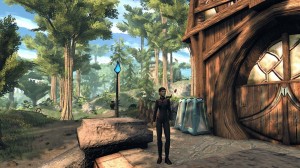 - …and the last question, what, i n a few words do you think in your game, will make the players play your game instead of other MMOs ? What makes your game different ?
The simple fact that the game is set in the Star Trek universe makes a huge difference. Instead of making a vanilla MMO and then adding a little bit of art to make it feel right, we have built game play systems around how a Star Fleet Captain would progress throughout their career. Having a crew and massive Star Fleet Vessel to explore the Star Trek universe provides a rich game play experience that Star Trek fans can not get elsewhere.
Thank you for your time, and good luck for the end of development for this promising game. We all hope the subscriptions plans are not in hand of ferengis.
Thank you for your questions